Miracle Pictures presents a Dilletante production
The Immortals by Martin Amis
He was here before the beginning and he'll still be here after the end.
The Show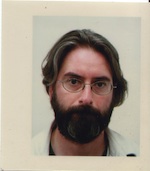 Especially for the 2010 Wellington Fringe, Wellington identity Dan Slevin will perform Martin Amis' The Immortals for a limited season in The Pit Bar, at the front of Wellington's BATS Theatre.
It is 2045. Following a nuclear war, the human race faces extinction. The only survivor will be a man with a very interesting story to tell: a story involving the dawn of man; the demise of the dinosaurs; the battle of Agincourt; an elephant named Babalaya and lots of booze.
He swears he is immortal, and that only he knows the truth, but can he really be what he says he is?
History
In 1988, acclaimed English author Martin Amis published a book of short stories called Einstein's Monsters. He was very worried about the threat of nuclear war and feared that the increasing Cold War tension would result in the destruction of the entire planet due to unchecked technological development and ideological intransigence.
One of the stories in the book was called "The Immortals" and was a first-person narrative from the point of view of the world's only Immortal--a character who found himself stranded on planet Earth at the dawn of time, watched interested as intelligent life slowly developed and then watched helplessly as the human population did everything it could to wreck the world it had been given. And he is grumpy about it, quite frankly.
In 1992, Wellington theatrician and Amis-fan, Dan Slevin borrowed Einstein's Monsters from Wellington Public Library. He immediately (and to be honest, uniquely) saw the potential in the story as a dramatic monologue and pitched the idea to friends and colleagues.
Two years later, for the princely sum of £100, the rights were secured from Mr. Amis' agent at the time and Dan produced and directed The Immortals for the 1994 Wellington Fringe Festival. Donald Holder played The Immortal and the show was received well-enough to be awarded a Pick of the Fringe prize and an extended season.
While the show has faded from memory, the publicity photograph for that production is still recalled fondly. Taken by Jonathan Brough in the back bar of the Cambridge Tavern, it formed the basis for a publicity flyer that graced a thousand fridges all over Wellington.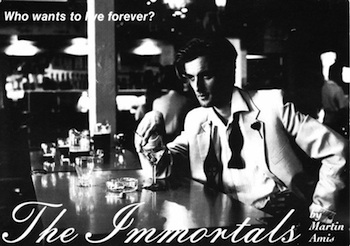 Dan has never quite managed to get The Immortals off his mind and always believed that he would revisit it one day. That day is now.
Download the Press Release here (it says much the same as the above only in different words).
You can also download the show poster (with a considerably less compelling central image than the original) in low, high and pdf resolutions.
UPDATE: Here are a couple of images of the curtain call for the show, giving you an idea of the venue and the vibe of the performance.